Car Shipping
Moving to a new city or state can be overwhelming. Packing up all your belongings and moving them cross-country is one of the most labor-intensive activities for any person or family. And this doesn't even account for how you move your cars to your new home. Fortunately, AMPM Auto Transport can make this aspect of moving simpler.
Auto shipping with a reputable company like AMPM Auto Transport should be considered over driving your vehicle yourself. After all, it saves time and money. Plus, driving a packed car for long stretches of time can be hazardous in many ways.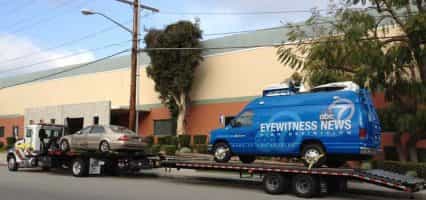 Car Shipping with AMPM
At AMPM Auto Transport we provide world-class car shipping to anywhere in the country and that includes Alaska and Hawaii. No matter how remote or far, AMPM Auto Transport will deliver your vehicles safely and securely.
AMPM provides both open and enclosed auto transport so you can select the method that best suits you. Open auto transport is the industry standard form of transport and easily the most popular. Enclosed auto transport is a bit more expensive and is generally recommended if you're wanting to transport a luxury or exotic vehicle. With the enclosure, your car gets an extra layer of protection, keeping it away from exposure to the elements and road debris.
With both open and enclosed auto transport, you can rest assured that your car is extremely secure and cared for. Our record of excellent service at AMPM is impeccable. Plus, we also offer exotic auto transport, expedited auto transport, and we even tackle corporate relocations. Basically, we deal with the whole variety of auto transport needs.
Excellent drivers and excellent service
Our goal at AMPM is to eliminate any concerns as it concerns moving your vehicle to anywhere throughout the country. Our drivers are thoroughly vetted and some of the best in the industry. Moreover, our customer service team is always ready to answer your questions and put to bed any fears you have about turning your car over to us.
Contact us at AMPM today and we'll be happy to address any of your concerns and get you started on your car transport services!