Exotic Auto Transport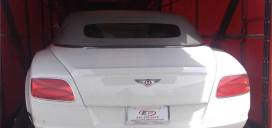 Exotic Auto Transport is a service AMPM Auto Transport is proud to provide. Owning an exotic car is wonderful, but you'll want to make sure it's always taken care of. For instance, if you're moving, you'll need to transport your exotic car. Or, maybe you are purchasing or selling an exotic car. AMPM Auto Transport can pickup the car directly from the dealer and deliver it to you once the order is complete.

Many people buy or sell cars online, so it's important to set up reliable car shipping to get your product. AMPM Auto Transport provides full exotic auto transport services. We can always offer the best deals for you.
So, even if you are in LA and you buy your exotic car from New York, AMPM Auto Transport will deliver the vehicle to you safely and efficiently. There is no need to drive thousands of miles and spend time and money on gas. AMPM Auto Transport will load it on a special enclosed truck so it can make its way safely to you. This allows us to transport your single vehicle in a trailer with no other cars. We have the top-notch equipment necessary for loading any type of exotic vehicle. We supervise the whole process strictly from the online requested quote all the way up until delivery. AMPM also has cargo and liability insurance.
AMPM Auto transport provides:
Sports Car Transport
Racing Car transport
Collector Car Transport
Luxury Car Transport
Classic Auto Transport
We worry about the well-being of your exotic car as much as you do. In order to make things easier for the customers, we advise you to get your online quote right now. If you have any questions regarding the transport prices or transporting options, call us. We are looking forward to hearing from you!