For the joy of our customers, AMPM Auto Transport company team has created the App of our website for iOS and Android devices.  The App gives you a chance to submit your car shipping quote both from your mobile devices as well as from your tablets easier and faster.
It means that since the moment you download the App you will not need to waste your time and internet on visiting our website from your mobile devices of from tablets to fill out your car shipping quote information. In addition, taking into account the fact that our App users will be not only our loyal customers but our new customers as well, two additional sections are presented in the App aside from free and easy quote submission section.
Hereby AMPM Auto Transport App consists of the following sections: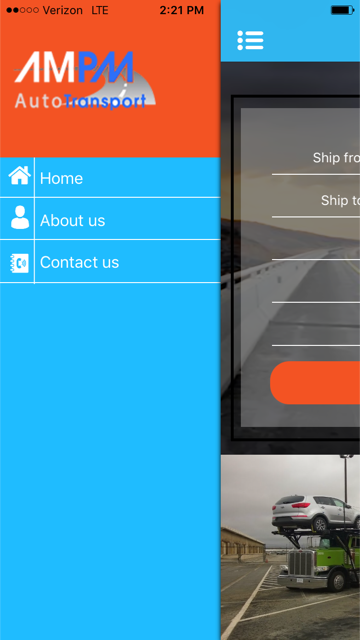 Home Page: you can find your free quote submission place on our home page. Here you should fill out information about your vehicle, destination you want we ship your vehicle as well as the time period you want your vehicle to be shipped to a certain place. Taking into consideration your right of privacy we do not ask you any kind of personal information.
About Us:  if you want further information about our app you can click the button in the left corner of the app and you will see About Us section.
At this section, you can find answers to all your question about our company. Here we present our history, what we do, where we ship as well as which Car Transport methods we use to ship your vehicles and etc.
Contact Us: In this section, you are provided with all the information that is needed to contact us. Here you will find the link to our website as well as our office phone number where you can call and receive fulfilling answers for all your questions.
At AM PM Auto Transport we do everything for our customers' convenience. You just need to download the app and fill your car shipping quote out. We will review it and get back to you as soon as possible.
Here are the links for the App. Just click them and download:
iOS: https://itunes.apple.com/us/app/ampm-auto-transport/id1275550223?mt=8
Android: https://play.google.com/store/apps/details?id=com.ampmautotransport&hl=en